Testing iHerb's Popular Vitamin C Serums
DESCARGO DE RESPONSABILIDAD
Este blog no ha sido aprobado por su departamento de salud local y no pretende proporcionar diagnóstico, tratamiento o consejo médico. Leer más

Este blog no ha sido aprobado por su departamento de salud local y no pretende proporcionar diagnóstico, tratamiento o consejo médico. El contenido que se ofrece en este blog es únicamente de carácter informativo. Consulte con un médico u otro profesional de la salud sobre cualquier diagnóstico u opción de tratamiento médico relacionado con su salud. La información de este blog no se debe considerar como un sustituto del asesoramiento por parte de un profesional de la salud. Las afirmaciones hechas sobre determinados productos a lo largo de este blog no han sido aprobadas para diagnosticar, tratar, curar o prevenir enfermedades.
En este artículo: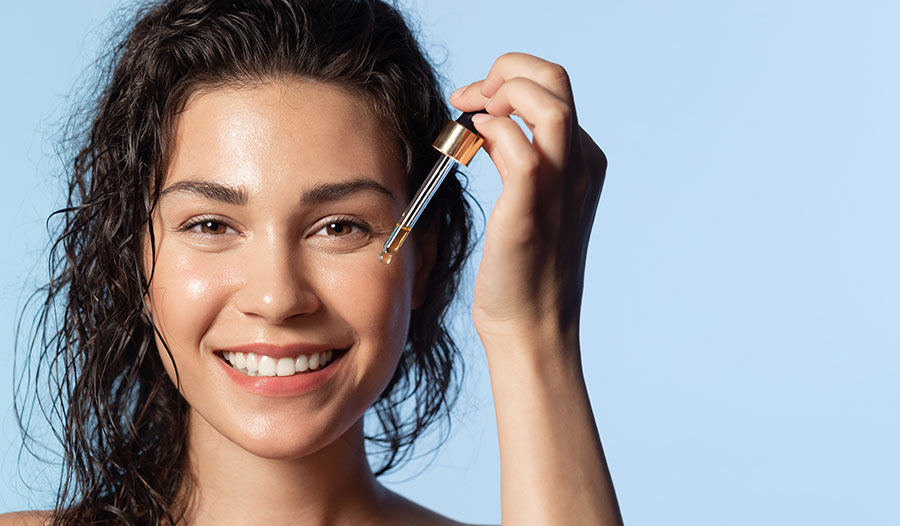 Goodbye summer and hello winter?! I'm pretty sure we skipped an entire season somewhere along the way in the Northeast. And while my denim and leather jackets sadly stare at me in hopes that I grab them from the closet every day, it's my skin that has been screaming for some TLC from this abrupt change in weather.
Enter vitamin C—my favorite little sunshine in a bottle. Who knew that adding just one step into my daily skincare routine would be utterly life-changing for my skin? Vitamin C (in serum form) not only hydrates your skin, but it also reduces dark circles and hyperpigmentation (Adios, sunspots!), has anti-inflammatory properties to take down redness, and leaves your skin feeling smooth, refreshed, vibrant and glowy. Now you want to add it to your routine, too, right? I don't blame you.
But not all vitamin C serums are created equal. There are a TON of products out there that claim to be pure, straight-up vitamin C, while others add in supplemental vitamins and nutrients like vitamin E, niacinamide, and everyone's favorite buzzy skincare ingredient, hyaluronic acid.
Choosing A Vitamin C Serum For Your Skin Type
So, how do you find the right one for you? Understanding your skin type and skin goals is always the first step to any skin product selection. For me, I have combination skin and tend to get a bit oily in the T-zone and slightly dry around the nose and chin—so I like to stick to lighter products and steer clear of any products that are overly oily or don't absorb into the skin quickly.
I tested out three different vitamin C serums to see which one was right for me. One quick note: before using ANY new skincare product, please take the time to do a patch test on your forearm (leaving the product on for a full 24 hours)—it can save your beautiful face from breaking out with blemishes and you from having to cancel on a first date (not speaking from personal experience or anything). Okay, that's the end of my little PSA, and here are the products I tried:
These products are all extremely different from one another. From the claims to the ingredients, the only thing these items share is that they have some level of vitamin C in them, come in small glass bottles with eyedropper tops, and are all serums. Other than that, my experience with each was pretty unique.
I chose to test these out during my morning skincare routine to see how these would lay under my makeup application. When applying each of the serums, I took the following steps:
Washed my face

Used my favorite toner

Applied 2-3 drops of the vitamin C serum (working it into my skin in small, circular motions)

Applied my favorite moisturizer with SPF in it (key to safely using vitamin C serums)

Let my face dry and then started my makeup application
TruSkin Vitamin C Facial Serum
First up, TruSkin Vitamin C Facial Serum. I LOVE that this product is formulated in the USA and without parabens, sulfates, or phthalates. It's also dermatologist tested and hello animal lovers, this one is plant-powered and vegan-friendly. The consistency of the product is slightly thick for a serum, a bit cloudy looking, and fairly odorless.
The first thing I noticed was that the product absorbed into my skin pretty well and my skin did feel quite soft after application. One week into using it and I could start to see some of my redness fade away and a glow begin to emerge, However, what I initially thought was my skin feeling softer actually turned out to feel like a powdery residue left on my skin—which is really great for those with oily skin or who don't really wear makeup.
RoC Multi Correxion® Revive + Glow Daily Serum + Vitamin C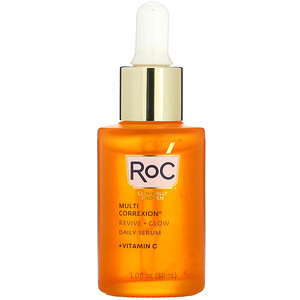 Next Up, RoC Multi Correxion® Revive + Glow Daily Serum + Vitamin C. Love. Love. Love. This product claims to tighten, brighten and even out your skin tone and let me tell you, it does not disappoint. The serum itself is light, not sticky, and has a very slight citrus effervescence to it—which is refreshing and honestly awakening first thing in the morning before you've had your first cup of coffee.
From the very first application, my skin was immediately visibly tighter and brighter. The product absorbed right in without leaving any residue on the surface. After a week of daily use, the texture of my skin was unbelievably smooth—my makeup literally glided on, and I even ditched my primer because my skin just didn't need it!
Wishtrend Pure Vitamin C 15%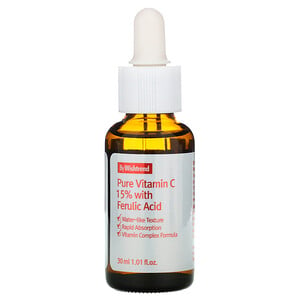 Last but not least, Wishtrend Pure Vitamin C 15%. I've heard a lot of hype about this brand and product so I was SUPER excited to try this one out. The product claims to have a water-like texture, which it absolutely does. It also says it rapidly absorbs into the skin, which for me, it, unfortunately, did not—it could be that it just doesn't jive with my combo skin, so let's not give up on it just yet.
The serum is definitely lightweight and I do like that it is 15% pure vitamin C—which none of the other products claimed to have. I did notice that my skin had a really lovely, natural glow after just one use.
One thing to watch out for with this product, however, is that it did oxidize fairly quickly. One way to help slow that process down is to keep this product in the refrigerator, which can be a morning bonus as the coolness will help to further reduce inflammation in the skin.
The Winning Vitamin C Serum For Me
At the end of the day, one product did make its way into my heart, medicine cabinet, and daily skincare routine—the RoC Multi Correxion Revive + Glow Daily Serum + Vitamin C. That's probably not a big shock given my review of the product but I just couldn't hide my sheer excitement for how much I love this stuff and what it's done for my skin in such a short period of time.
My biggest takeaway is that no matter which product you choose, add a vitamin C serum into your skincare regimen—your future self (and skin) will thank you!
Marketing Strategist by trade, self-taught freelance makeup artist by passion, Michelle Nishanian hails from NY and lives by the motto that true beauty is mentality over makeup.